Exchange among Researchers from Germany and Southeast Asia: Approaches to Reconstruction and Upgrading in light of climate Resilience.
Many parts of Southeast Asia are regularly flooded - such as by monsoon rains or typhoons. Heavy rainfall is also on the increase in Germany. At the international conference of recovery and reconstruction hosted by IRPUD, Department of Spatial Planning, Technical University of Dortmund, researchers from Germany and Asia discussed different approaches being taken in Germany and Asian countries to reconstruction and how science can support more resilient construction (full program available: Kahr Programm.pdf).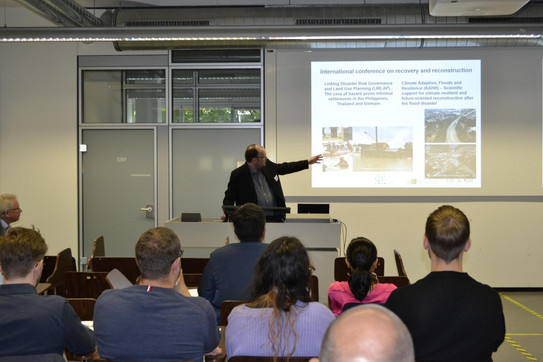 In order to mutually benefit from current findings - also across national borders - around 50 researchers from Germany, Japan, Vietnam, Thailand, Japan and the Philippines met at the Department of Spatial Planning, Technical University of Dortmund on July 4, 2023. The event focused on discussions of research results, lessons learned, and successful responses to hazard events, especially after floods. Topics ranged from exchanges on hazard and risk and their impacts under different geo-conditions, potential measures for on-site upgrading for those disaster-prone settlements, and strategies for modernization and resettlement. How to implement disaster risk management at different political levels was also on the agenda of the international conference.
In Germany, the KAHR project (see https://www.hochwasser-kahr.de/index.php/en ), is addressing the question of how can reconstruction after natural disasters be designed to minimize damage in future events: 13 partners from science and practice including IRPUD, are providing advice and research to support reconstruction in Rhineland-Palatinate and North Rhine-Westphalia after the 2021 flood disaster (see https://www.hochwasser-kahr.de/index.php/en ). In Southeast Asia and China, BMBF is supporting the sustainable development of urban regions through its SURE (Sustainable Development of Urban Regions) funding measure. Among other topics, this measure addresses the issue of how prudent risk management can be created in the event of extreme weather events and natural disasters. The IRPUD project LIRLAP plays here a fundamental role, focussing on three countries in the region.
Adapting reconstruction to natural events such as floods and inundations.
The BMBF-funded project LIRLAP (Linking Disaster Risk Governance and Land-Use Planning) investigates urban risk governance and risk-based land use planning, so to reduce inhabitants' socio-economic vulnerability and enhance community adaptive capacity for resilience building. LIRLAP project focuses particularly on those disaster-prone informal settlements in the Philippines, Vietnam, and Thailand by collaborating with local residents to establish locally viable climate-resilient upgrading and resettlement strategies.
The LIRLAP research partner Ngo Thanh Son from the Vietnam National University of Agriculture (VNUA) presented in his lecture what structural upgrading solutions are focused on in case resettlement is not possible to protect property and livelihood in case of flooding. For instance, it has proven effective to build houses on stilts or to construct the first floor so that it can be flooded through in the event of a flood. In this way, the property can be protected by a stable roof, which can also be used to evacuate the residents. The best possible protection is all the more important here since most of the local population has no insurance.
For the Philippine team of LIRLAP, Prof. Dr. Ma. Sheilah G. Napalang focussed on disaster coping and adaptive capacities of local communities and presented lessons from hazard-prone informal settlements in the context of resilience upgrading in Metro Manila. It is based on extensive fieldwork of the LIRLAP team and revealed the importance of local leadership, formal and non-formal community support systems and social cohesion.
In contrast to many parts of Asia, natural disasters are less frequent in Germany, but they are on the rise, partly due to the effects of climate change. The 2021 floods in Rhineland-Palatinate and North Rhine-Westphalia caused billions of euros in damage. When it comes to rebuilding houses and infrastructure, it is clear how different the approaches are in the various countries, emphasized Prof. Dr. Holger Schüttrumpf, RWTH Aachen and representative for the KAHR project. In Germany, for example, resettlement hardly plays a role in contrast to Japan, Vietnam, and the Philippines. Everyone agreed that even if reconstruction is implemented differently at the local level, the aim everywhere is to make the buildings and infrastructure as resilient as possible to future natural events during reconstruction.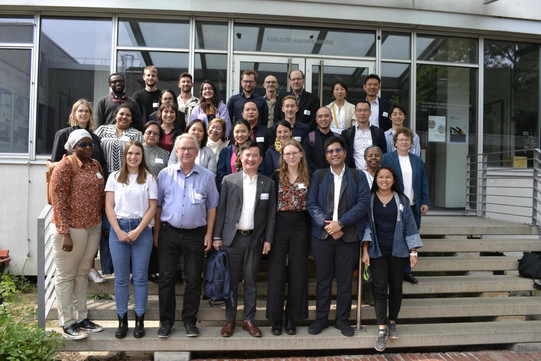 International Conference on recovery and reconstruction
As a joint event of the LIRLAP (Linking disaster risk governance and land-use planning, see https://lirlap.raumplanung.tu-dortmund.de) and the KAHR (Climate Adaptation, Flood, Resilience, see https://www.hochwasser-kahr.de/index.php/enlir) projects, an international conference on recovery and reconstruction will take place at TU Dortmund University on July 4th, 2023. Both projects are funded by the German Federal Ministry of Education and Research (BMBF).
Aim is to discuss research results, lessons learned and successful interventions from hazard events, especially flooding. Topics are sharing of problem-solving expertise, approaches of hazard and risk modelling, urban development and mainstreaming approaches and strategies for upgrading and resettlement as well as mainstreaming of disaster risk management at all policy levels.
Now the final conference program is fixed. Many exciting presentations are planned - and in between there is always time for discussions. We would therefore be very happy to welcome more participants. Please register via Wolfgang Scholz until June 28th at (wolfgang.scholztu-dortmundde).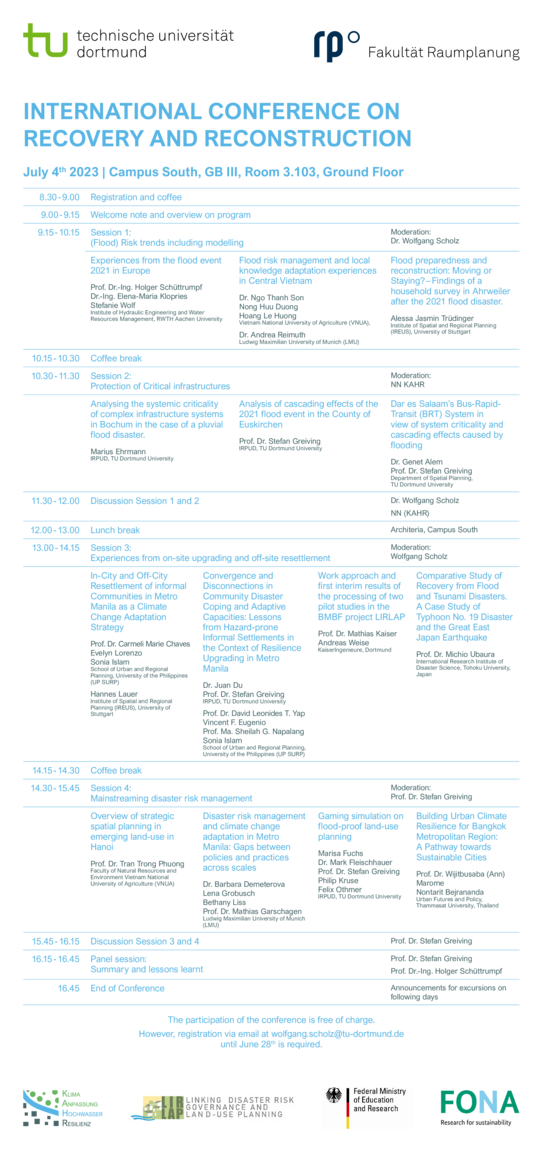 LIRLAP workshops and fieldwork in Bangkok, Hanoi and Manila
The German LIRLAP team with participants from the Institute for Spatial Planning (IRPUD) with Prof. Dr. Stefan Greiving, Dr. Juan Du and Dr. Wolfgang Scholz, the Institute for Spatial Planning and Regional Planning of the University of Stuttgart (Hannes Lauer) and the Research Group Human-Environment Relations of the Institute of Geography of the Ludwig-Maximilians-University of Munich (Antje Katschner) as well as Prof. Dr. Mathias Kaiser (kaiseringeniere) , spent two weeks in Southeast Asia to identify possible case studies in Bangkok and Hanoi, to plan further work steps with local partners and to conduct target group interviews in selected settlements.
LIRLAP workshops and fieldwork in Bangkok
The first stop was the Future Research Unit and Policy of Thammasat University (UFP) in Bangkok from 22 to 24 September 2022. On 22 September, UFP organised an expert forum to discuss and share knowledge with participants from research institutes and agencies in the field of urban development and housing on the impacts of climate change and strategies to mitigate them in the future. Other topics included disaster risk management and the development of low-income housing suitable for the Thai context. Keynote speakers were Ass. Prof. Dr. Tawida Kamonwetch, Deputy Governor of Bangkok, Dr. Khun Thanat Natthapornphong, Deputy Director of the Community Organisation Development Institute (CODI), and Dr. Sitthiporn Charnnin, Director of the Space Technology Research Center Office of Space Technology Development and Geographic Information.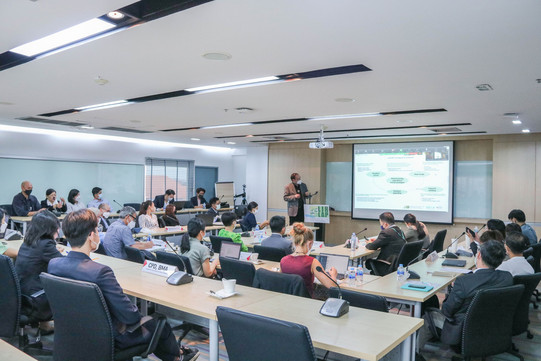 Over the next two days, UFP, the teams from Germany together with Dr Khun Thanat Natthapornphong (CODI) and teams of architects and engineers explored four settlements in Bangkok where CODI is implementing resilience improvement projects: Laksi Community 99, Pracha Ruamchai Community 2, Men's Khlong Bang Bua Community and Pathum Thani Community in Pathum Thani province. According to CODI, there are currently 98 low-income communities in floodplains in Bangkok and surrounding provinces with 10,825 buildings and 36,841 people. This number could increase due to climate change risks. The aim was to learn more about the history and development of the settlements in discussions with residents' representatives and local cooperatives, to visit the newly built houses and to study the construction measures carried out and their construction techniques. Other focal points were the financing model for housing construction and how the local government's support for the project was structured.
During this field study, the differences between the original condition of the buildings and the improvement of the quality of life for the population after the new construction measures, as well as the efficiency of drainage and wastewater treatment, became clear. LIRLAP will therefore analyse and evaluate upgrading approaches in Manila (Philippines), Hanoi (Vietnam) and Bangkok (Thailand) in a joint research process to increase the resilience of planning measures.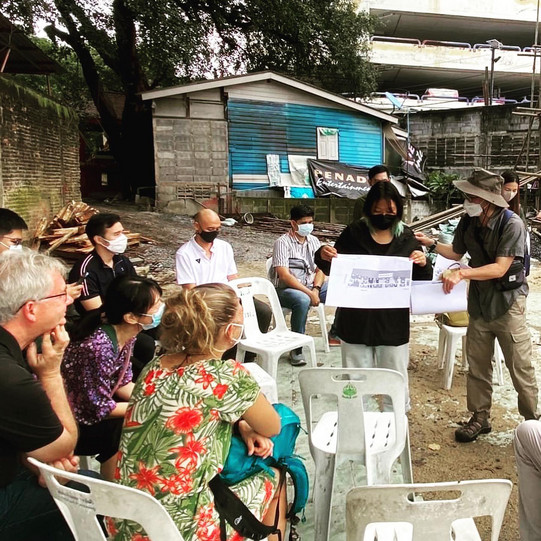 LIRLAP workshops and fieldwork in Hanoi
From 26 to 28 September, the LIRLAP team discussed current urbanisation trends with its partner from the Vietnamese National University of Agriculture (VNUA) in Hanoi. The first day started with input lectures from local experts: "Characteristics of urbanisation in Hanoi: changes in landscape patterns through space and time" by Dr. Nong Huu Duong and "Socio-demographic aspects of urbanisation and urban development in HCMC" by Assoc. Prof. Le Thanh Sang. The second part of the first day focused on an expert consultation with a scenario validation dialogue to discuss the narratives of socio-economic development pathways (SSP) for urbanisation in Vietnam.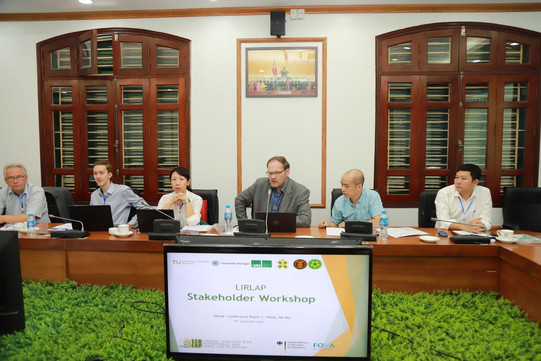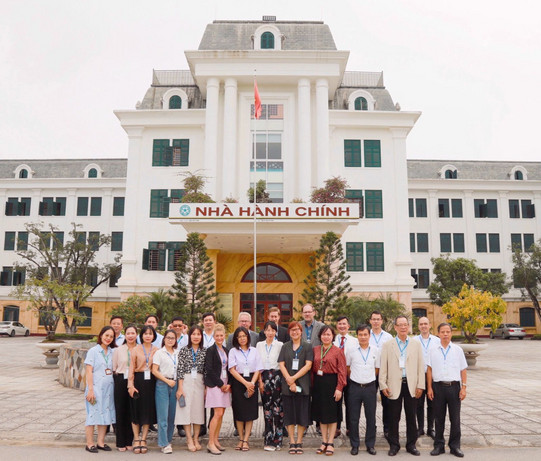 A third step involved the selection of case studies: settlements in floodplains or highly vulnerable (informal) settlements that either need to be upgraded or potentially relocated. LIRLAP also learned about current upgrading activities on the ground and climate resilience measures in Vietnam. Days two and three focused on field studies and discussions with community representatives and residents, as well as visits to informal building upgrades in social housing (KTT Thành Công in the city centre) and flood-affected riverside residential areas (Phường Phúc Xá and Long Bien) in Hanoi.
LIRLAP workshops and fieldwork in Manila
From 30 September to 5 October, the LIRLAP team continued its research in Manila. On Friday 30 September, the LIRLAP LMU team conducted its scenario workshop on three national narratives and a discussion on the driving forces in the form of scenarios, including a World Café. The weekend was reserved for field research activities in informal settlements and resettlement areas with transect walks, community meetings and focus group discussions in Tumana, Kasiglahan Village, Estero De San Miguel and Isla Puting Bato, and St Therese.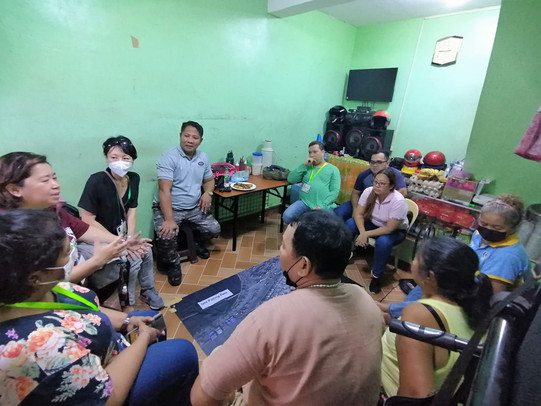 On 3 October, the entire LIRLAP team, including partners from Bangkok (UFP) and Hanoi (VNUA), held its strategy workshop at the School of Urban and Regional Planning, University of the Philippines Diliman (UP SURP) to discuss the status quo of each work package, assess the outcomes of the work packages and plan future activities for the period 2023-2025. After the outbreak of the pandemic, it was the first time that all members could be present at a workshop.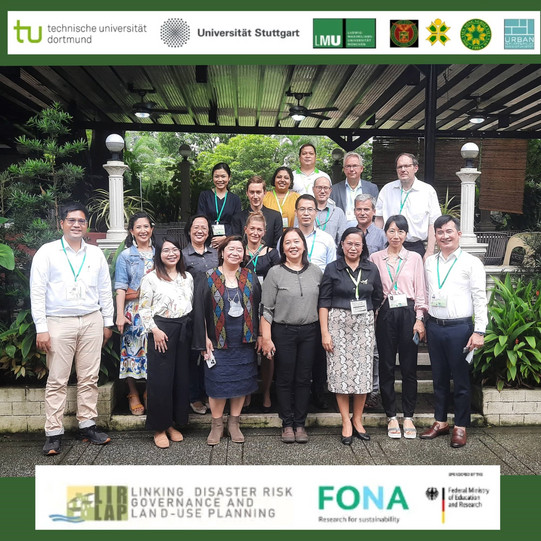 Productive and insightful discussions were held on strengthening the resilience of vulnerable settlements and LIRLAP is confident to take these forward and implement them. Another important topic was exploring options for mainstreaming enhancement and retreat strategies into national and local policy decisions. In the following two days, the main findings of the field analyses of WP 2 (upgrading of informal settlements) and WP 3 (resilient retreat) from March to June 2022 were presented and discussed with community representatives to triangulate and validate the findings. The LIRLAP team members also discussed with experts about the current housing policies, upgrading projects and discussed with Base Bahay Foundation, which is supported by Hilti Foundation, a possible future collaboration in implementing resilient upgrading and resettlement projects.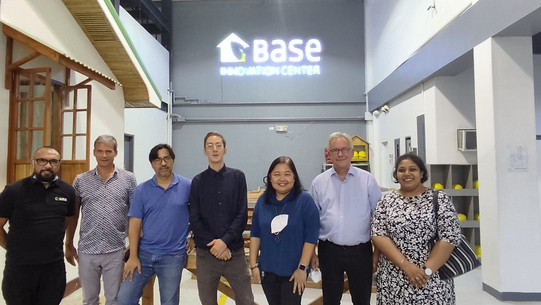 LIRLAP - Fieldwork in Metro Manila, Phillipines

Project members from the University of the Philippines, TU Dortmund, University of Stuttgart and the engineering company KaiserIngenieure gathered in Metro Manila for field activities. The team visited 16 settlements in the National Capital Region and surrounding provinces– among them 10 resettlement sites and 6 informal settlements. Part of these visits were group discussions with the Homeowner Associations, the local majors or settlement leaders, urban poor groups and NGOs as well as transect walks through the settlements.
In the meantime, the large-scale household survey has started and will be conducted in the 10 resettlement sites. A team of 12 professional enumerators began with the survey in Mahangghan Residences, a so-called People's Plans resettlement site. The survey investigates differences between resettlement approaches and is intended to provide data for the development of a resilient retreat index. This index should be able to monitor resettlement activities and allow estimations on how resettlement contributed to or interrupted the process of resilience building. The focus is on different resilience dimensions. Namely, resilient settlements, the exposure and architecture component. Resilient livelihoods, focussing on livelihood capitals. And resilient processes, investigating governance and participation options.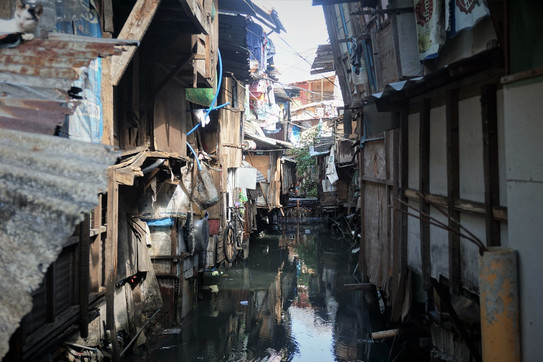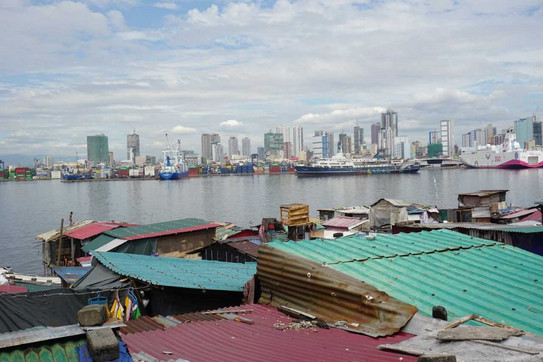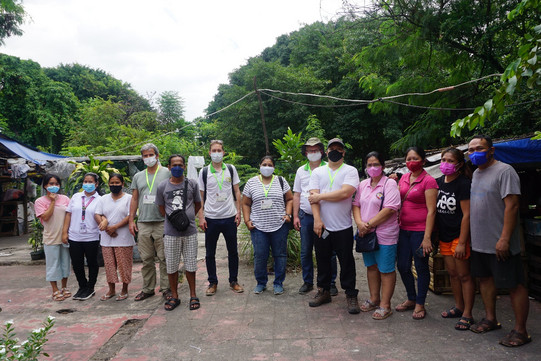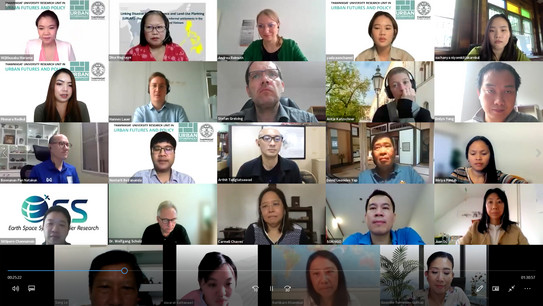 Virtual Stakeholder Workshops with Thailand and Vietnam Partner
On July 16th and 22nd, 2021 the project conducted its first two online stakeholder workshops respectively with Thailand and Vietnam partner. The aim was to introduce the project and discuss future joint work steps in the two new partner countries and to tackle the following topics with the multi-stakeholders:
How are disaster risk, climate change adaptation and urban planning interlinked in Thailand and Vietnam respectively?
How is informality and are informal settlements defined?
Where are hotspots of informal settlements or poor urban groups?
Where and what are hotspots and gaps for upgrading?
Where and what hotspots and gaps for retreat (resettlement and relocation)
The 30 to 50 representatives of planning authorities, ministries and NGOs from Thailand and Vietnam discussed in detail the above issues with the project partners of Urban Futures and Policy Research Unit (UFP) at the Thammasat University, Bangkok; and the Faculty of Natural Resources and Environment of the Vietnam National University of Agriculture (VNUA); as well as the LIRLAP partners of the School of Urban and Regional Planning (SURP), University of the Philippines Diliman; the Institute for Spatial Planning and Development Planning of the University of Stuttgart (IREUS); and the Unit on Human- Environment-Relations of the Ludwig-Maximilians University in Munich (LMU). The topics of disaster risk reduction, climate change adaptation, land use planning and mainstreaming resilient upgrading and retreat have been extensively covered during both workshops, particularly in terms of informal settlements and the urban poor. Additionally, the dual PhD program gained resonance among multi-stakeholders regarding capacity building. Based on both workshop input, a way-forward on networking and concrete work steps and mechanism are expected to be further built up.
March 2021:
LIRLAP conducted its internal kick-off Work­shop in the R&D phase together with the new partners in Thailand (Urban Futures & Policy Research Unit (UFP) of Thammasat Uni­ver­sity) and Vietnam (Faculty of Land Management at the Vietnam National University of Agriculture (VNUA)) online on March 9th 2021.
Aim of the workshop was to familiarize all partners with the goals and content of LIRLAPs working packages for the R&D phase, to establish well-working modes of collaboration and to plan further activities. For July 2021 online kick-off workshops with local stakeholders are scheduled in Thailand and Vietnam.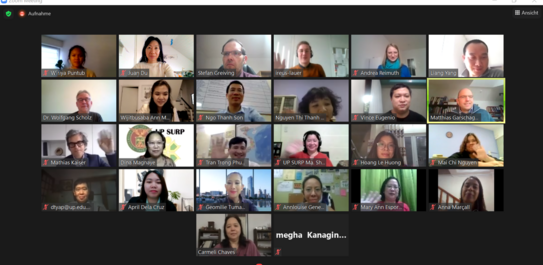 January 2021. IRPUD:
Funding of the R&D phase of the LIRLAP project - Linking Risk Governance and Spatial Planning: The Case of Informal Settlements in Endangered Areas in the Philippines has been confirmed.
The project funded by the BMBF as part of the Sustainable Urban Regions program can now enter the R&D phase, which will run from March 2021 to February 2025.
In this phase LIRLAP will contribute to the following discussions:
Minimizing the disaster risk through spatial planning, especially in informal settlements, as these are usually the most affected and can benefit the least from formal risk-reducing planning mechanisms.
Strengthening the resilience of informal settlements while reducing the social vulnerability of settlers.
Support for mainstreaming in order to promote the implementation of the measures and to translate the scientific findings into capacity building (joint doctoral program and training courses), policy advice and knowledge transfer.